Back in November I was invited out to Japan by Panasonic to have a little look at some products they have been working on for quite some time.  I wasn't given much information before heading out there but what I did know was that I would be getting a hands on with a pre-production sample of the the GH5.
I've been using the GH4 since is release back in 2014, its been my go to camera for pretty much everything I have shot from astrophotography stills to broadcast video. Its basically a professional video camera and stills camera built in to a small body, enabling me take all the kit I need to produce video in one backpack, all my lenses, camera body's, laptop and storage media. Having used the GH4 for the last two years I was super excited to see what improvements Panasonic have made with the GH5.
Upon arrival in Japan I was handed a GH5 body and the first thing I did was look on the underside for the serial number, I was super shocked to find the model I received was actually engineering sample number 1!! I was holding the first working GH5 in the world…. (as far as I know)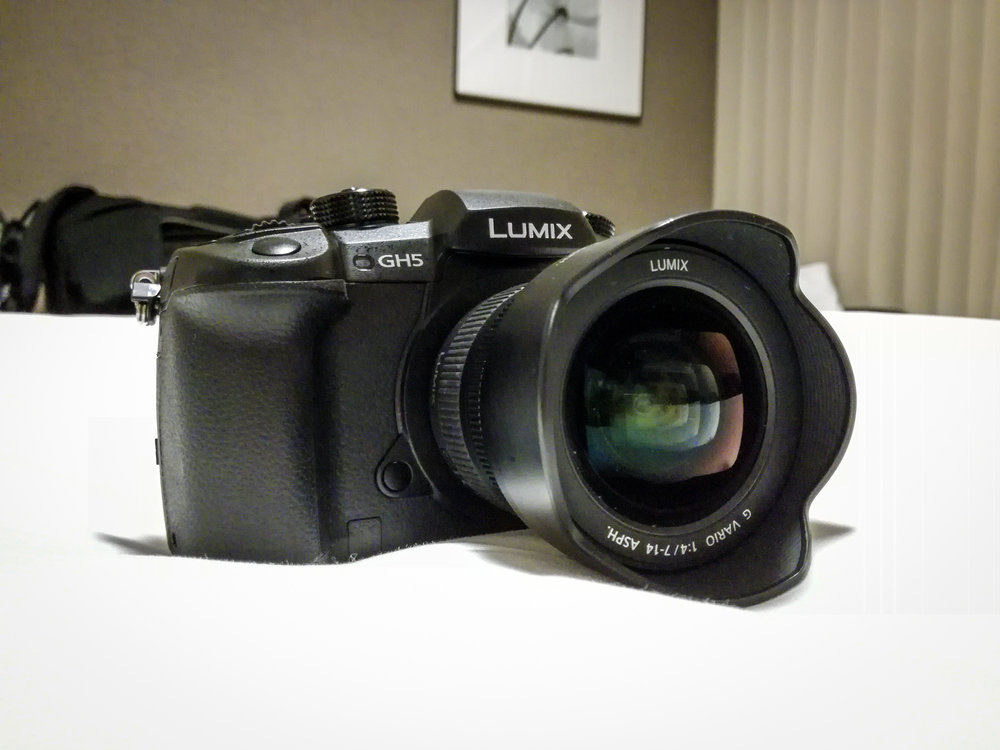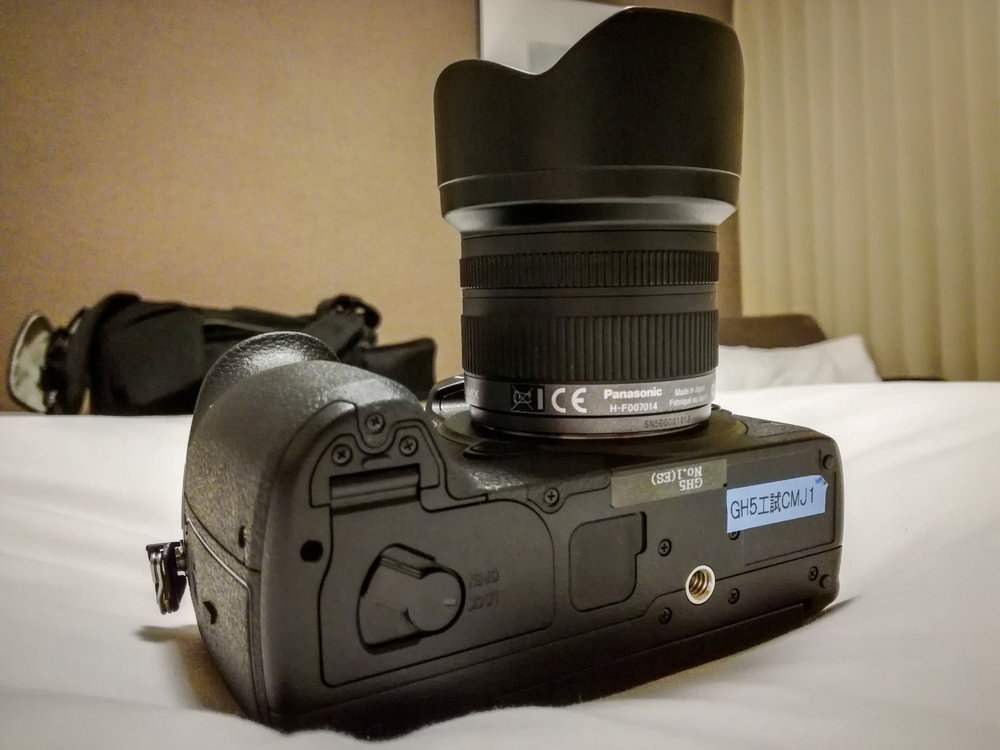 GH5 Specs
20.3MP Sensor
5-axis Dual IS
No Crop factor in 4K
3680k 0.76x OLED EVF
1620k 3.2" RGBW rear monitor
Improved low light (more on that later)
Improved AF speed using new DFD tech
No Low Pass filter
Reduced rolling shutter
Unlimited recording time
4K 60/50P (150mbps, 4:2:0 8-bit)
4:2:2 10-bit internal recording (DCI and UHD up to 30p + HD 60p*)
400mbps All-intra (DCI and UHD up to 30p**)
Variable frame rate (up to 180fps in HD)
Full size HDMI Type-A
USB-C
Dual Card Slots (UHS-II U3)
LUT display
High-res Anamorphic Mode**
Simultaneous recording internal and external
Waveform + Vector monitors
709-like Gamma + Knee control
Hybrid Log Gamma (for HDR video)
Freezeproof down to -10C
Cable lock included
Optional XLR adapter to record 96kHz/24bit internally
*Firmware in April, **Firmware in summer
Menu System
The first thing I did when I got my hands on the camera was check out the menu system which has changed slightly, its similar to the other products in the Lumix range but looks more modern and a lot cleaner. The structure of the menu system remains the same as previous models though, so you'll still find all your favorite settings in the same place as they were previously.
Ergonomics
Although similar in size to the GH4 the GH5 feels a lot nicer in hand. The hand grip area has been increased in thickness, its not that visually noticeable but in hand its a lot nicer. Weight wise, its noticeably heavier than the GH4 but this isn't a negative, it feels really solid in hand. The button layout is very similar to the GH4 but the added AF point joystick is a welcome addition.
5-AXIS Dual IS
I've been using a shoulder rig for shooting hand held for years, its always been a vital part of my travelling setup, shakes and wobbles can ruin even the best framed shot! I'll still be using a shoulder rig for most my shooting but I'll be less reliant on it in future as the stabilization on the GH5 is incredible. Whilst I was out in Japan I used the GH5 with no shoulder rig at all and I was surprised at the results, I could move about freely with the camera and the 5-axis dual IS was dialing out pretty much all the micro vibrations, awesome!
180 FPS Variable Frame Rate (1080p)
I used the 96 fps variable frame rate all the time on the GH4, slow motion makes even the most uninteresting shot look interesting. I always found Panasonic's decision to limit this to 96fps strange though as I would have preferred it to be 100fps to conform to 25fps PAL. Although the 96fps was good, it seemed to soften the image a lot and I was always left wanting more frame rate. Panasonic have listened and we now have 180fps variable frame rate which brings the GH5 close to the Sony FS7 which is common place on most broadcast shoots. I was unable to test this on the pre production model I was using but I was able to use the 150fps mode which looked absolutely stunning, a lot sharper than the previous 96fps mode on the GH4.
4K 60/50P
Another feature I always wanted on the GH4 was 50/60p in 4K. When filming for 1080p delivery I film absolutely everything in 50p giving myself room in post to slow clips down by 50% or sometimes even more when using a plugin like Twixtor. You are now able to do that in 4K too which is massive!!
20.3MP Sensor
This new sensor is a vast improvement over the GH4, not only does it offer more resolution for stills but offers much better performance in low light video. During my tests I found ISO 6400 to be more than useable, yes there is a bit of noise in the image but its way cleaner than the GH4 which was unusable at 6400. The noise also has a very natural look to it, almost film like which is really cool. Unfortunately I didn't have a chance to test out the GH5 for shooting astrophotography but the second I get my hands on another one that's the first thing I will be doing.
4:2:2 10-bit Internal Recording
I've never been a fan of using an external recorder and screen, it just adds weight to my rig, which is the last thing I want when running around a busy motorsport paddock or pit lane. I am a fan of the 4:2:2 10-bit recording that would were able to get out of the HDMI port of the GH4 though… Now you're able to get all that extra colour information in camera and sent straight to the memory card!! If you're looking for a good explanation of what this means check out this video from GH shooter and top guy Griffin Hammond.
Conclusion
The GH5 isn't a game changer like the GH4 was but its still a huge jump adding features that are really important! The video footage has more dynamic range, look sharper, the colours look gorgeous and the new variable frame rates are a massive addition. It also feels like a more polished product than the GH4 did, more professional, solid in hand. I can see it being extremely popular with self shooters like myself but also with big production houses that need an FX camera to shoot 60p. I'm super excited to shoot with the GH5 this year!!!